My Site Build It Review
Site build it will help you to create your own online business. It is an all in one step by step system with all the tools that teaches you how to make money on the internet.
Onr key factor I will repeat is that it is a system. They teach you a systematic way to do things. You don't have to invent anything just do what they say.
Another key factor is that it is different from other products on the market.
Simply because they take all the unnecessary information out of the way. Instead they have you focus on the relevant information and guide you every step of the way.
The only thing left to do is apply what you learn. I got excited when I found out that the money individuals made from their profitable website exceeded the income they made from their jobs.


How Does Site Build It Work?
Glad you asked. I had the same question. This is how it works. You choose a topic that you like and create a website on the topic. If you do not know what to choose they will help you to choose your topic based on your interests.
Everyone has something that they can talk about.
You get training on content, development of your site and the promotion of products to earn a commission on every sale. They also show you how to generate a continuous stream of people to your online business.


Why Solo Build It?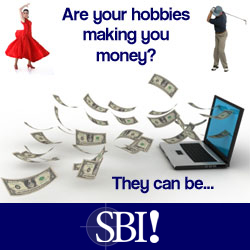 You would like to make another source of income and would like to create options for your self along the way.
A profitable website built by their system can help you achieve this. Besides your time is valuable and you would rather be doing what you love to do rather than have to do sometimes.
All you have to do is be consistent in applying what you learn. It will take work and effort on your part. It is not some type of get quick rich deal for people who are looking to get a quick buck. Once you are diligent in your efforts you will reap the rewards.
Return from This Page to Resources page
Return from Solo Build It page to Workout Routine 101 home